Back
Aamazing KaaBlitz Crossword 1.0
Program name: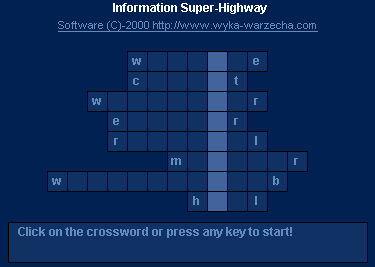 Aamazing KaaBlitz Crossword
Developer:
A1 Wyka-Warzecha
Version:
1.0
License:
Commercial ($49.95)
OS:
Win 3.1x/95/98/ME/XP/2000/ Vista Starter/ Vista Business/ Vista Enterprise/Java
Size:
0.10 Mb
Description:
KaaBlitz Crossword! is an exciting new product that allows you to easily add crossword games with special effects to your website! This product can increase the 'stickyness' of your website, i.e., customers will want to come back to your website over and over, plus tell others, to play the crosswords because it is fun! Simply click on the crossword to hilite a row, then use the arrow keys to move up/down and type in your answer! The full version also supports total customization for colours, sounds, scoring (to keep scoring on your website) plus much more! And, it is extremely easy to set up! Simply type in your words and clues, and you have a crossword!
Rating:
Links:
Parse error: syntax error, unexpected 'endif' (T_ENDIF) in /home/www/software/freeddls.com/www/application/views/pages/software/quick-jump.php on line 4